Residential HVAC Services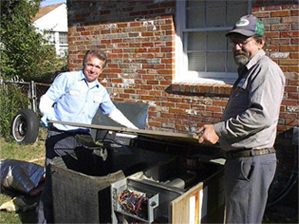 Our experienced service people are here to help you whenever your system fails. You never know when that will happen, a cold January night or a hot August day, but you can be sure we will be there to help you 24 hours a day.
Our service people will repair your system as quickly as possible to get you going. We are here to help you save money and not just to replace your system when a simple fix will take care of it.
However, sometimes replacing is the only answer and Kevin or John will be glad to come by and talk to you about the options you have. He can size up your job to the correct unit, not too much, not too little. Look around and you will see that a lot of your friends and family already trust us to keep them comfortable. They have been using our services for years and we are sure you will also once you give us a try.
Western Tidewater HVAC
120 Bowers Rd, Franklin, VA 23851


We have a complete line of York heating and air conditioning products and services.

Services Provided:

Residential
Light Commericial





Contact Information: